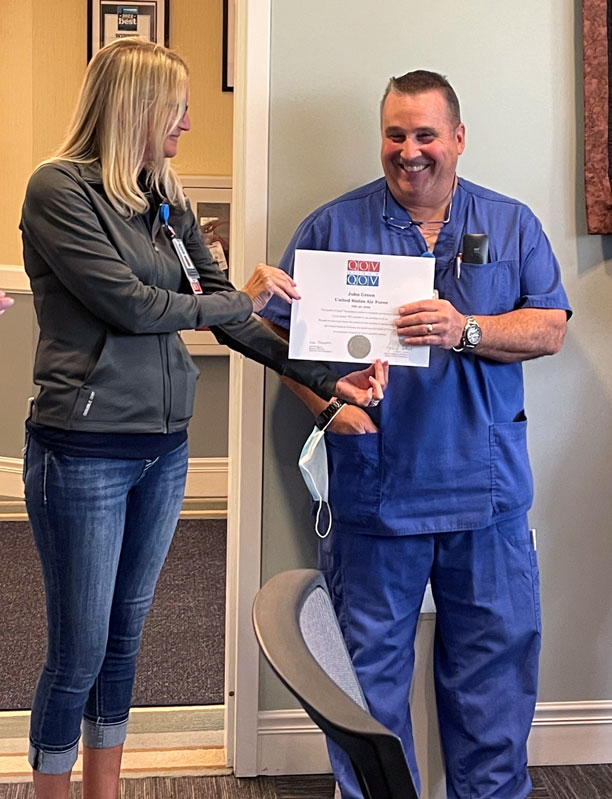 Like any young adult, John wanted to see the world and determined to do that he would join the U.S. Air Force. Because of his skills, he was trained as a jet mechanic. In the service, mechanics go where their jet goes, therefore, he has been to Germany, Philippines, Japan, and many other places for short periods of time. During his time in the Air Force, he was predominately stationed out of bases in California and South Korea. His desire to see the world was satisfied.
When his enlistment ended, John felt it was time to change his career, however, he still wanted to keep one foot in the service. The Reserves fit those criteria. Based on his experience as a jet mechanic, he was assigned as an electrician, he enjoyed that work. John served an additional seven years in the Reserves, leaving shortly after Desert Storm ended. In total, he proudly served his country for 11 years.
John carried his varied experience into a position at Chrysler. At one point he had an opportunity to further his education acquiring a certification in heating and cooling. After moving the family to a rural community, the long drive to work became too much time away from them. It was time to implement his newly earned heating and cooling certificate, finding a position closer to home and family.
Several years later, John felt the calling to help people in a more one-on-one and personal way. Never one to relax, he went back to school earning a nursing degree from SC4. One of his clinical rotations was at Blue Water Hospice Home, he enjoyed the work but moved on to the next experience. Once out of school and working in a nursing facility he was contacted by a former classmate inquiring if there was interest in working in end-of-life care…at the Blue Water Hospice Home! It was meant to be. "To me, hospice is more one-on-one help for the patient and family; more so than you would typically experience in a hospital or even nursing home", says John.
His mom passed away before he finished nursing school, but he knows how proud she was of him, "she would be happy to know I choose hospice care and especially this special Hospice Home." John regularly receives high praises and compliments from the patients and families he treats, they are grateful for his gentle, caring, and skillful demeanor.
John served his country and now serves patients during end-of-life care, two callings not meant for everyone. Thank you, John, we appreciate all you have done and continue to do for all of those around you.
Quilts of Valor is a foundation started by a military mom. The mission is to cover service members and veterans touched by war with comforting and healing Quilts of Valor. Learn more at www.qovf.org.