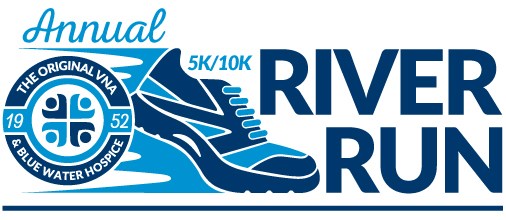 Calling all runners and walkers!
Each year VNA & Blue Water Hospice hosts the River Run in Marysville Park. Funds raised benefit charity care at the agency, ensuring all patients receive care, regardless of their financial standing.
The first run was held in 1985 and since has become one of the premiere runs in the Blue Water Area! More than 400 runners and walkers participate each year. The River Run is held the first Saturday in June.
"This is our largest fundraiser for VNA and Blue Water Hospice, and we rely on the support of our very generous community. We raise funds and have fun at the River Run" says Angela DeLaere, President & CEO, VNA & Blue Water Hospice.
Saturday, June 3 - Marysville Park
5K, 10K, 3-mile walk and 1-mile Fun Run
6:30 a.m. – Registration
7:45 a.m. – 1-mile Fun Run starts
8:15 a.m. – 10K & 5K races start
8:20 a.m. – 3-mile walk starts
9:15 a.m. – Awards presentation
 Register Online Download Registration Form  
Race Packet Pick-up: Friday, June 2
10 a.m. – 4 p.m.
VNA Main Office – 3403 Lapeer, Suite B101, Port Huron (former Baker College campus) OR – pick up race day at the Marysville Park Community Building
Volunteer
We are always looking for volunteers to assist at the River Run. Contact Heidi Benner at heidi.benner@vnabwh.org or call (810) 388-6120.
Sponsorship Opportunities
Several levels of sponsorship are available. Download the flyer for more information, or fill out the form below.
Download Sponsor Flyer Online Sponsor Form
Feel free to contact us with questions at jeannie.westbrook@vnabwh.org or call (810) 388-6054.






















Visiting Nurse Association Health Services is a non-profit, Port Huron based agency, governed by a board of community members. The agency raises funds in order to provide charity care ensuring that all patients receive safe and quality care, regardless of their financial standing.