It's back! The annual River Run hosted by Visiting Nurse Association (VNA) & Blue Water Hospice is back after a two-year hiatus due to the pandemic. This year's event will be Saturday, June 4 at Marysville Park, 810 East Huron Blvd., Marysville, MI.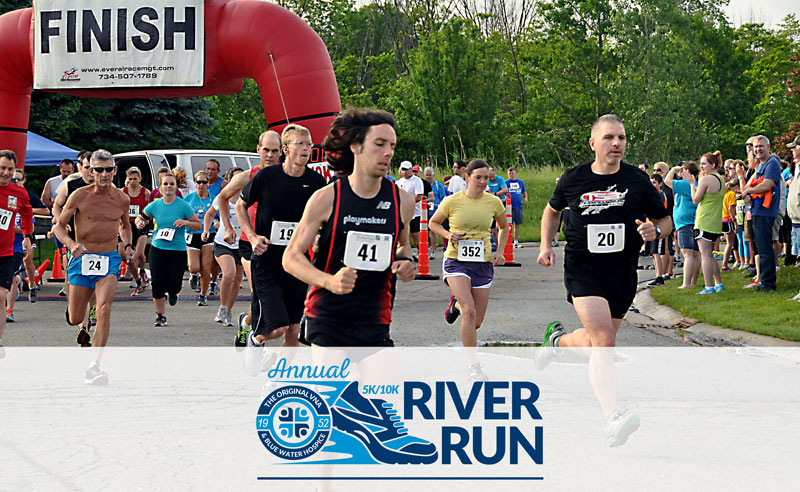 Participants choose between a 10k, 5k, 3-mile walk, or 1-mile fun run. Registration now thru May 22 is $30 for adults, $25 for children 13 and under. Those who sign up May 23 or later, cost is $40 for adults, $30 for children 13 and under. The 1-mile fun run is $15. Register prior to May 22 to get a t-shirt and take advantage of the lower rate. Sign up at www.vnabwh.org/river-run or call VNA at (810) 984-4131.
Race packet pick-up is Friday, June 3, from 10 a.m. to 4 p.m. at VNA located at 3403 Lapeer Road, Suite B101 (former Baker College campus), or on race day at Marysville Park from 6:30 – 7:30 a.m.
Looking for sponsors! Are you interested in sponsoring this fundraising event? Contact Jeannie Westbrook at jeannie.westbrook@vnabwh.org or call (810) 388-6054.
Maybe you don't like to run, however, you can volunteer! We need volunteers to assist on race day. Contact Heidi Benner at heidi.benner@vnabwh.org or call (810) 989-2452.
Don't miss out on one of the premiere runs in the Blue Water Area, this is the 35th year! In addition to feeling good after your walk or run, you'll feel good that funds raised benefit charity care ensuring that all patients receive care, regardless of their financial standing. "This is our largest annual fundraiser for VNA & Blue Water Hospice, and we rely on the support of our very generous community, and after a two-year pandemic break, we're excited to be back," says Angela DeLaere, president and CEO of VNA & Blue Water Hospice.
For more information about the race visit www.vnabwh.org/river-run or call (810) 984-4131.