Cardinal Mooney Catholic High School in Marine City requires students to complete a service project that will benefit the community as part of religion class. CJ Miller and Brendan Carnaghi contemplated what project to do when they thought of VNA & Blue Water Hospice. Paula Carnaghi, Brendan's mother, is on the Board of Directors for the organization and thought it was a great idea.
It did not take long to determine their project… a duck house for the Blue Water Hospice Home.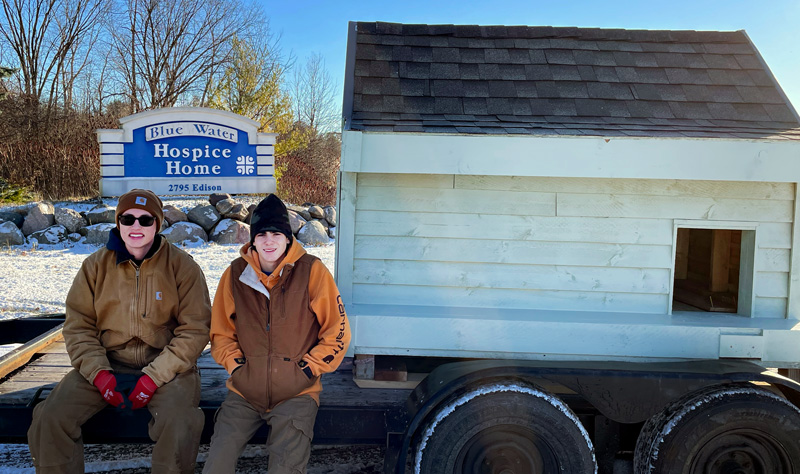 "Knowing the Hospice Home fills such a great need we reached out to determine if there was something we could do for them. It had been mentioned that a shelter was needed for some domesticated ducks that had found their way to the pond at the Hospice Home. We were glad to be given the opportunity to build one," said CJ.
Brendan and CJ designed the structure, planned the build process, gathered materials, and completed construction. They estimate the man-hours around 60 and provided all materials themselves. They took inspiration from the Hospice Home mimicking design elements and color.
"Our patients love to see the wildlife. Each room has a view of the pond, the ducks & deer, among other animals nearby, provide a beautiful backdrop, and entertainment for the patients and their visitors," says Angela DeLaere, President & CEO, VNA & Blue Water Hospice.
The new duck house sits close to the pond where it can help them shelter from the weather and be viewed from patient rooms. Feel free to drive by and view this beautiful structure built by two thoughtful students The Blue Water Hospice Home is located at 2795 Edison Blvd, Marysville, Michigan.